AlivEducation Proactive (AP)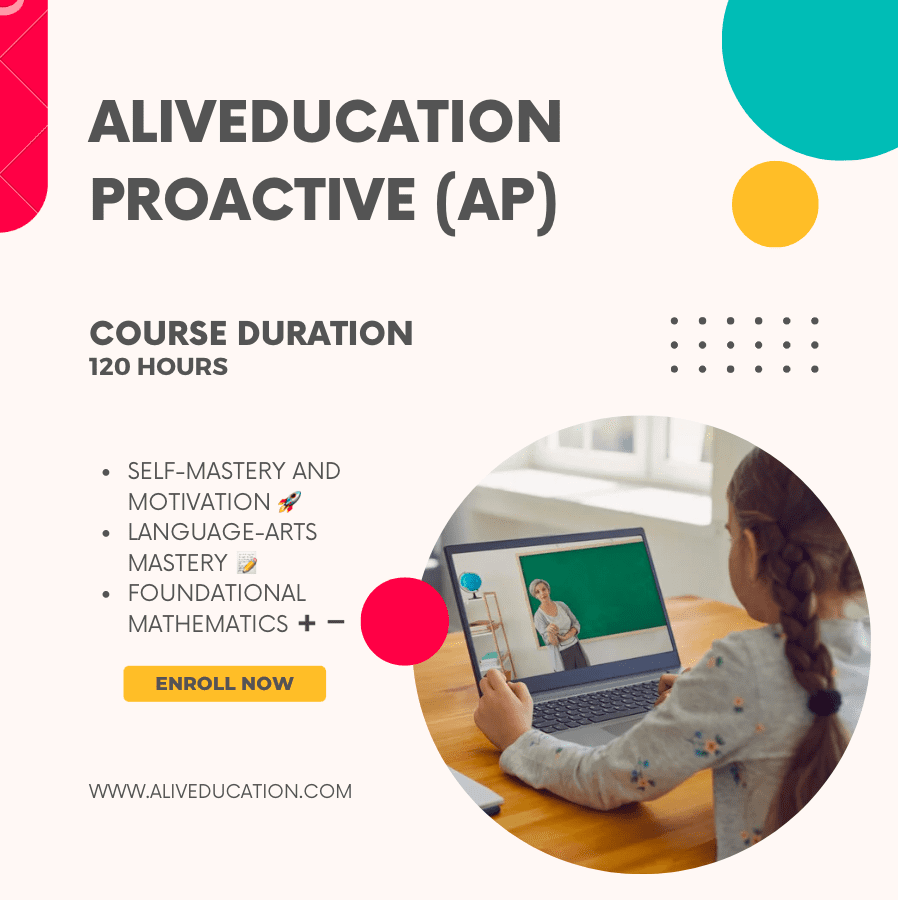 Are you ready to embark on a transformative educational journey? AlivEducation Proactive is not just a course; it's an experience designed to empower students in grades 7 and 8 across Canada. Our program is composed of three dynamic courses, each meticulously crafted to provide students with the skills and motivation they need to succeed in the 21st century.
📚 Course Breakdown:
Self-Mastery and Motivation 🚀
Unlock Your Purpose: We believe that understanding one's educational journey's purpose is the key to motivation. In this foundational course, students will clarify their goals and aspirations.
Strategies for Success: We implement proven strategies and techniques to help students achieve their goals. Our focus is on building the foundation for lifelong learning and success.
Language-Arts Mastery 📝
Mastering Language: Our Language-Arts course is designed to hone students' reading and writing comprehension, vocabulary development, grammar skills, literary analysis, and essay writing proficiency.
The IB Advantage: Special emphasis is placed on Essay Writing Skills and the IB Learner Profile. These skills are essential not only for program admission but also for successfully completing the program.
Foundational Mathematics ➕➖
Critical Thinking & Mathematical Reasoning: This course equips students with critical thinking, problem-solving, and mathematical reasoning skills crucial in today's conceptual age.
IB Preparation: We prepare students for the rigorous demands of the IB program and other higher-level math courses. Our goal is to ensure students excel in math and competitive admission tests.
🎯 Who Should Enroll:
This program is designed for students enrolling in grades 7 and 8 across all provinces in Canada.
🚀 Program Delivery:
Our program is delivered virtually by a team of experienced IB educators. Each group session accommodates a maximum of 5 students, ensuring personalized attention.
The full program spans 120 hours of enriching content.
We seamlessly integrate the Self-Mastery and Motivation course into each of the other two courses during every class.
Language-Arts (English) and Mathematics classes are conducted separately.
Students can expect two 90-minute sessions each week, one for Language-Arts and the other for Mathematics.
To maximize learning, we recommend that students dedicate a minimum of 2 hours for homework after every Language-Arts session and at least one and a half hours after each Math session.
At AlivEducation Proactive, we are committed to nurturing young minds, equipping them with essential skills, and motivating them to thrive academically. Join us on this exciting journey towards excellence, where every student is given the tools to succeed, regardless of their location.
Don't miss out on this incredible opportunity to excel academically and cultivate a lifelong love for learning. Enroll your child in AlivEducation Proactive today and watch them shine! 💫
Enroll Now for a brighter future!
Date : September 12, 2023 Language : English
Meet Your Teacher
Dr. Monjur Chowdhury is an educationist, an Ontario Certified teacher, an Electrical Power System Engineer and a socio-economic Researcher. He is a strategic developer with a passion for implementing a quality educational model that would serve underprivileged school-aged children all over the world. He has more than 20 years of experiences in managing cross-functional and cross-cultural teams. He has been successful in building strategic partnerships and global networks for internationalization of quality education and research in technology.
Course Includes
Foundational Mathematics
Total Class Recordings
73 articles
100+ downloadable resources
Full Lifetime Access
Certificate of completion